January Update
Happy New Year!
Well it certainly has been a storied 2020 so far, hasn't it?  Fortunately, despite the world being (literally) on fire, things in my day to day life have actually been going surprisingly well, allowing me to start my year off with high hopes and ample opportunity!
My biggest news is that I've been really finding my audiences as a solo dance performer, and I'm focusing much more of my time on building this side of Fiercely Serene Studios.  I'm more actively pursuing bookings and gigs, and have been putting myself out there to increase my visibility. Primary among my marketing efforts is visual impact, including a professional photo shoot that is upcoming and a sizzle reel video that, thanks to my partner Michael, has already become a very awesome reality!  Check out the new tab on the top menu to find my Performance page and see the full video! You can also find booking information for your events. Even if you may not be looking to book performances, I'd be very grateful if you shared my information with anyone you know who might be!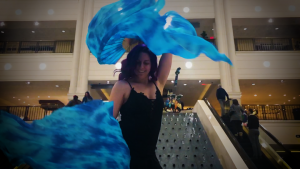 Also with Michael's help, I've been able to construct a well-ventilated indoor spray paint booth to continue my visual art creation into the new year.  With plastic-coated panels and an innovative fan and duct configuration, I can continue working with this exciting (but fumey) medium even through the winter months.  This has allowed me to work on larger canvases as well as I gear up for my first gallery show in January! Featuring this new series, Crystalline Worlds, the gallery will have my art on display (and for sale) for about four weeks.  I was originally scheduled to have an opening reception on Friday, January 10, however due to a death in the family the reception is currently postponed indefinitely, but stay tuned for updates!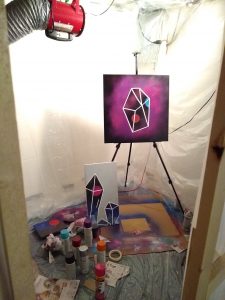 Building off of last year's successful entry into the world of public art, I'm pleased to say that it looks like I will be continuing to build my role at local arts festivals and events such as Brite Winter and Ingenuity Cleveland!  I may also be assisting these groups and other amazing local non-profits in the coming year with administrative tasks, data entry, grant writing, and marketing. You'll definitely see more coming from McFarland Manor in 2020, and we're also looking to build the local listening website ListenCLE into a city-wide source for great tunes.  Additionally, I'll be meeting soon with the leaders of Artists In Recovery (AIR216) and the Rollin Buckeyez Foundation in the coming weeks to see how I can help these other non-profits grow and serve larger portions of the community with their wonderful missions.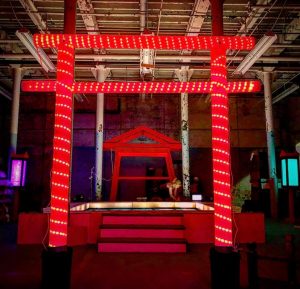 All in all, I'm feeling pretty good about starting a new year!  Be sure to follow my social media accounts to see my latest adventures and artwork, and hopefully I'll see you at any of the events I have coming up – check Facebook for the most up-to-date calendar!