December Update!
I have so much to say!
This year has been bonkers.  Had you asked me 12 months ago what I thought my life would be like right now, I would have painted a wildly different (and much more boring) picture than what has actually occurred.  At so many points along the way, I would have liked to update this blog and the rest of the site to reflect what's been happening, but I struggle with the ability to get some of the more grindy stuff done around the big projects.  Hopefully, going forward I can change that by approaching posts as more of a monthly newsletter format than as a regularly updated blog. Sound good? Let's get started with the December Update then, which will basically be looking back at the entire year.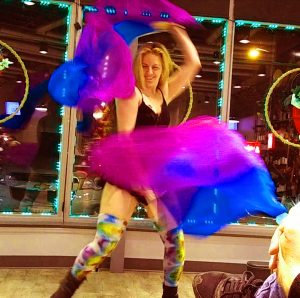 Biggest thing to address right now is the addition of flow dance performance to my resume and offerings through Fiercely Serene.  I've had the opportunity this year to not only return to some of the dance things I've dabbled in back in the past, but to pick up quite a few new props and skills to grow an entertaining act.  Already I've been on some pretty cool stages all over the country, including Wizard World comic conventions and events not only here in Cleveland but also in cities like Chicago, Austin, Columbus, and more!  I'm also performing regularly at local open mic nights and craft fairs, adding some visual excitement where I can. I'm hoping to build my act and start seeking more private event opportunities in the near future – so let me know if you have a company party or child's birthday (or whatever) that could benefit from a unique dance act, and send over any referrals you may have!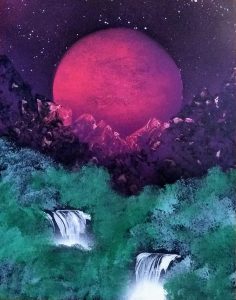 My art life has been taking all kinds of crazy turns this year too.  I'm still working with galaxy art and pour paint, but I added additional "flow" arts to my repertoire: alcohol inks and spray paint!  The alcohol ink work I've done has mostly centered around performative art, featuring an overhead projector to display my ink work while I accompany live music.  I do one piece per song, and try to encapsulate some aspect of the music while I work, whether it's applying techniques to the beat, using colors to reflect what's happening in the song, or actually creating a concrete image related to the lyrics.  With spray paint, I've been focusing on speed painting, using quick application techniques to create space scenes and landscapes right before your eyes! I'm also working with spray paint on canvas for my first ever gallery show in January. Keep an eye on my Facebook pages for announcements about that!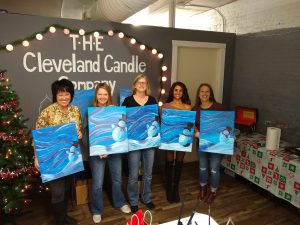 I've continued teaching art classes too, finding a wonderful "home base" at Cleveland Candle Company in Ohio City.  My class offerings include traditional paint and sips, pour painting workshops, alcohol ink coasters, dream catchers, and more.  I've led classes as large as 50 people (a really sweet mother-daughter duo painting for Mother's Day) and as small as one person, and everyone has walked out with something special!  Private events have gone very well too, along with public "walk up" workshops at craft fairs.  My repertoire of paintings continues to expand and I'm already working on some new pieces for next month!
And of course, one of the most unexpected changes to my world was joining Ingenuity Cleveland this year.  Walking into the Hamilton Collaborative in the first week of January set the tone for the rest of 2019: I entered a massive warehouse full of incredible large-scale artwork and interactive exhibits that were hand-crafted by a small group of local creatives, and was immediately accepted into the cadre.  I worked on a huge train installation, an escape room game to go with it, some undersea decor, and a mock airplane exhibit as part of my role as Assistant Art Director for Brite Winter music festival in February to kick off my involvement with Cleveland's public art scene. This was closely followed by my first original creation (the Dream Gate) for the Dreamers Bal along with some other group pieces, then culminated in a featured room at IngenuityFest: Dreamscapes including the Zen SoundScapes interactive musical garden I made with my partner.  I also created some large pieces for some other events around town, including Rooms to Let, Literary Lots, and FireFish Festival.  The ride hasn't stopped there, either. We're currently gearing up to build for next year's Brite Winter, and have plenty of ideas for the future too!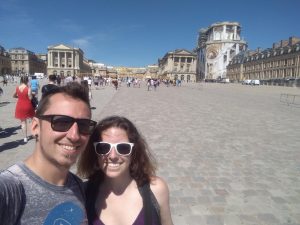 On top of all the creative excitement, I also got to spend two weeks backpacking through Europe, arranged and hosted a backyard music and arts festival that was attended by over 400 people, went to dozens of amazing sporting events (mostly soccer, including the women's World Cup), saw myriad live performances of all types, explored major cities, and so much more.  I honestly can't believe how much we managed to pack into just one year! And of course, there are so many exciting plans in the works for 2020 already… I can't wait to keep moving ahead!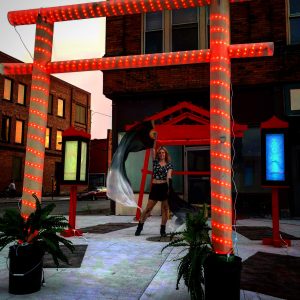 Stay tuned for more updates, at least monthly, but also I'm going to try to post major happenings at more relevant times.  Keep an eye on this page for some renovations and updates as I focus on marketing myself a little more broadly going forward; 2019 was a great foundation year but 2020 is going to be MY TIME!