Fiercely Serene in the News!
HOW EXCITING IS THIS?  My experience at Polar Fest this weekend was so much fun, interacting with kids and adults alike to bring out their hidden artist – and my work was even featured on a local TV news station!  Seeing so many people walk up with a hint of apprehension and walk away beaming with pride was absolutely wonderful.  Check out the full segment on WKYC!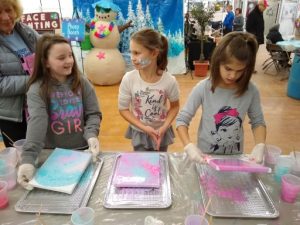 I learned a lot, too!  It wouldn't surprise me to find that many artists end up with some of the same problems I do when it comes to color biases.  For me, I'm not a fan of oranges, lighter greens, and yellows.  Not sure why, I've just always shied away from those shades.  When I use them, it's sparingly.  But this weekend I saw several creations featuring some of my least favorites in a major way.  Gotta say, after seeing this brilliant little girl's work, I'm kinda falling in love with orange, aren't you?!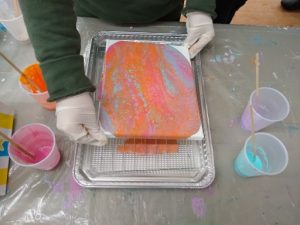 Exposure to the visions of others can open our own eyes to some incredible beauty!  Especially from children, who have a different angle on the world around them.  This particular young lady was so nervous about how her piece would look.  She was stressing about her color choice, her hands were shaking as she lifted the canvas, and when she finished, all you could see was her smile.  I'm so lucky to be touching kids' creative minds and hearts with this type of project, and hopefully I can instill some encouragement and excitement into those who seek creative outlets.  What an honor that would be!
Coming soon: I'll be teaching various classes at the Cleveland Candle Company in Ohio City, starting with a couples' Valentine's Day painting session!  Keep an eye on their calendar and mine as new events are added.  Each event includes making a custom candle, as well!