Enchantment Under the Sea
Since last June, I've had the pleasure of working with several local singer/songwriter musicians to build an exciting DIY music venue in the heart of Cleveland's Gordon Square Arts District.  Once each month, we host six to eight local musical acts (and occasionally a traveling act), sponsor a charity drive for a local organization, and when possible, feature a visual artist.  We've also welcomed an entrancing dance performance, and hope to host more dancers in the warmer months.  It's been a constant excitement, and the community that we have the honor of welcoming into the house for each show is a shining example of why Cleveland is a city full of rising stars.
This month's show theme is Enchantment Under the Sea Prom Night (yup, think George McFly by the Triton punchbowl) and Fiercely Serene has been called upon to provide some fluid, underwater themed decor for the party.  Since I've been playing with alcohol inks so much lately, it made sense to see what I could do with that medium in this kind of context.  I found some oceanic wood cutouts, and after a few coats of latex paint, I was able to apply the inks and got some really cool results.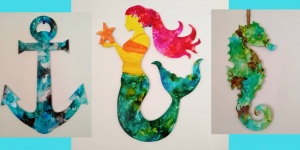 But that wasn't enough for me – my partner suggested we make some jellyfish to hang from the ceiling, and after a quick brainstorming session and gathering some supplies, we struck gold.  Squishy, tingly, gummy jellyfish gold.  Using inks to decorate the tops, torn plastic sheeting for the tentacles, and strings of multicolored fairy lights, we were able to put together these glowing beauties!
Adapting the ink art to different projects has been pretty exciting, and I have several much larger-scale projects in the works for art installations and gallery features in the coming months.  Come check out the first LIVE ink art performance tomorrow at Polar Fest (admission is free!) to see one of my newest ongoing projects, and be sure to follow my social media accounts to catch all the interesting and unique pieces I have in the works!