New Year
Yeah, I'm a little late for New Year's.  I also haven't posted anything in ages.  I'm okay with it, and here's why.
The second half of 2018 took me by surprise.  When I started this website, I originally intended to blog about art for a while and slowly – sloooooooowly – build an art business as I learned and practiced and experimented.  What actually happened was a little different!  Thanks to a wonderfully supportive partner, opportunities for showing and my paintings came quickly and conveniently, and suddenly people were buying things I had made.  This encouraged me to keep making, and to keep experimenting regularly, and before I knew it, I had an art business up and running!  I taught some painting classes, started stocking prints of my original pieces, and even began live painting at music shows.  My artistic talents were being commissioned, I was being asked to collaborate with other artists and performers…  I was feeling pretty damn artsy.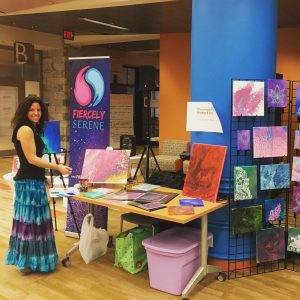 Then the calendar page turned and it was 2019 already.  January 1st was a pretty big day, and not just because of the holiday.  January 1st was the day I started to realize I AM an artist.  A brainstorming session led to the creation of a new performance-based visual art style to tackle as my first project of the new year, and within 48 hours I was already making that idea happen at full scale.  Two weeks later (that's now) I have a body of work created with new techniques in a new medium, and I've learned and developed interesting strategies to keep the artform moving forward in my life.  I've also taken some new ideas to the things I had been doing last year, with stunning results.  My new stuff is already grabbing attention and earning commissions and sales, too, which is a nice little cherry on top of the personal success I've already found in this endeavor.  I'll share more about what I'm doing once I have some video to accompany photos, since it really is meant to be a performance experience instead of just a flat piece of art, but here's a sneak peak at a favorite piece: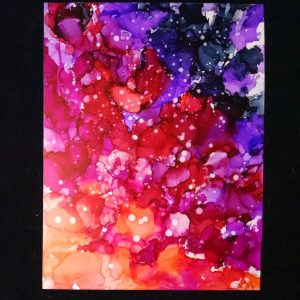 Now, I'm looking at a plethora of interesting options, most of which are closely tied to the art world in some way.  I'm getting more involved in a local innovation-based collaborative, I'm a regular at one of Cleveland's biggest art hubs (and may end up with my own studio space there), I'm discussing an option to return to my event planning roots by helping with a very successful chain of craft fairs/art shows in northeast Ohio…  The possibilities seem endless these days, and it's making me feel more alive than I have in a long, long time.  Possibly ever!  Having the support of my partner, my family, and an entire network of like-minded creators has established a world in which I can finally live happily.  There's progress, purpose, and positivity in every single day (even the bad days), which is a totally new phenomenon to me.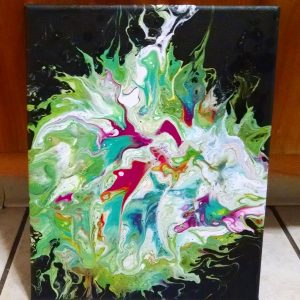 I'm excited to embrace 2019 and all the magic I just KNOW is in store for me!
See you on the other side!